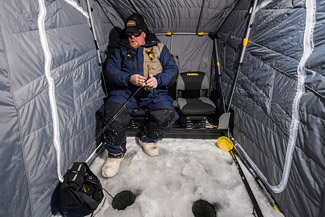 The market is overflowing with portable ice-fishing shelters.
To choose which to use, factors include whether you'll fish solo or with other anglers, whether you'll walk onto the ice or motor out, whether you plan to keep on the move or stationery while fishing, and whether the temperature will be extremely low or moderate.
Frabill, the most popular manufacturer of ice-fishing gear, makes portable shelters for all of this and more.
Covering all of them in one article is impractical, but here's a sampling of a few from the company.
The flip-over is designed for running and gunning.
We're not going to describe in detail how a flip-over gets set up on the ice, but all that's really involved is flipping the frame over your head.
Flip-overs are made to be set up extremely quick, encouraging anglers to keep moving instead of hunkering over unproductive water.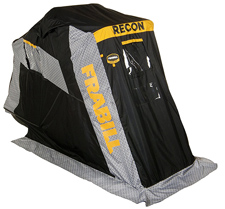 They're smaller and less insulated than other shelters, but lighter and easier to transport by hand.
The Frabill Recon, shown in the photo at left, is one of a number of flip-overs from Frabill.
The Recon is a one-person, quick-deploying, sleek shelter that retails for $229.99.
Such one-person flip-overs provide a small, dark space that can work well for sight-fishing, blocking out light, too.
Frabill's SideStep shelters are the most innovative portable shelters in a decade, the company says.
They feature two doors on each side to enter the shelter conveniently, instead of a front door that's on most other shelters.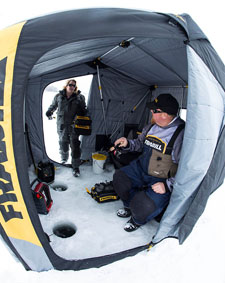 The side doors help anglers avoid stepping over things like ice-fishing holes, tackle, seats or heaters when entering.
Frabill's SideSteps are meant for multiple anglers.
These shelters are bigger, bulkier and less portable, but are still flip-overs and are roomier and can be more insulated than other shelters.
Frabill makes a number of them that are priced up to $899.99.
Hub shelters are portable shelters that are bulkier and take more effort to transport and set up.
They're not flip-overs.
But they're more insulated and are roomier for more people and gear.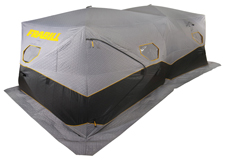 Frabill's Bunker 450, in the photo at left, is the mother of all of Frabill's hub shelters.
The 450 measures 160 inches long, 80 inches wide and 80 inches high.
This shelter, selling for $439.99, features 89 square feet of fishable space and is fully insulated on the sides but comes with a lightweight roof.
Companies like Frabill have worked throughout the years to offer many innovations and options in portable ice-fishing shelters.
Don't underestimate the technology that's been developed, like the fabric.
"I can't say enough about the insulated fabric," Frabill rep Brian "Bro" Brosdahl said about the materials that Frabill uses.
The fabric adds weight but can keep you warm on the coldest days, the Minnesota ice-fishing guide said.
To see all of the company's portable shelters, visit Frabill's website.