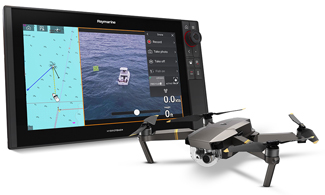 Things are getting crazier.
In a good way.
Drones or UAV's – unmanned aerial vehicles – were introduced not long ago that were specifically meant for fishing
Raymarine, the manufacturer of boat electronics, has made its Axiom and Axiom Pro electronics able to fly a drone from aboard and display a live video that the drone is filming.
The live feed is seen on one side of the screen, and the other half displays a nautical chart that shows the positions of the drone and boat.
Raymarine had offshore fishing for big game in mind for using this.
When a big-game catch is hooked, the Fish On button can be pressed, and the drone takes off, turns around and begins filming the boat from the air.
You can control the flight using the Axiom or Axiom Pro to adjust the filming.
Then you can post the video on Facebook and stuff. Ha.
This system could also be used to scout for fish from the air.
This was all introduced at the Miami Boat Show that was just held.
This is compatible with the Spark drone and Mavic drones from the company DJI.
Axiom and Axiom Pro are "multifunction navigation displays" or basically screens that can be used to display a variety of boat electronics, like sonar and chart plotters, on one unit.
For more info, visit Raymarine's website.
Watch a video about the system.