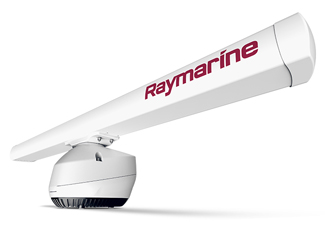 Raymarine's Magnum Radar was introduced, like, literally yesterday.
See the press release.
So it caught our attention.
Sure, that's because it's new.
But it's also because Raymarine is boastful about the new radar.
And, you know: this is Raymarine.
Magnum features "unmatched detection of small targets," the company says.
If you're not an electronics head, maybe you have to think about what that means.
But when you think, you understand, right?
You're going to have to bear with this electronics-speak.
The radar can show especially small stuff on the screen, like some birds working bait along the water surface.
Is that more understandable?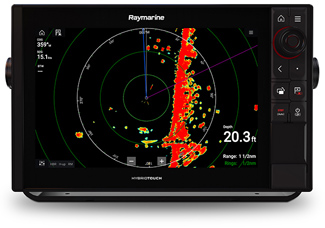 Seriously, though, this radar is meant to see working birds at greater distances, up to 10 nautical miles.
So Magnum is about detail.
It'll show the coastline in detail like a map, for that matter.
Magnum is also about long-range, whether that's for finding birds or seeing storms or seeing a ship a long ways away.
Getting back to detail: Magnum features best-in-class target tracking.
That's more electronics-speak.
But you get it, right, when you think about it?
If your radar shows the track of other boats quicker or more accurately, that can be safer, especially in traffic.
The company's patented "beam-sharpening technology" allows smaller antennas to perform like much larger, the company says.
Magnum is meant for larger boats or blue-water vessels.
Hey, they're anglers, too!
We can't describe everything about Magnum on this page, and only mean to make you aware that Magnum exists, in case you're in the market for radar.
Magnum Radar was yet to be included on Raymarine's website at press time.
But for details, click on the link above for the press release.
Also watch a video about Magnum Radar.
That was posted, like, literally today!