Seaguar's InvizX is one line that they're expected to fish there.

InvizX is a fluorocarbon, so it's exceptionally low-visibility, and is a "smooth-casting, robust line with incredible feel," Seaguar says.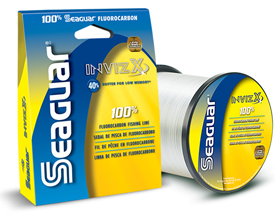 It's meant for "shallow-water power-fishing," the company says.
The anglers are expected to spool up with 12- or 15-pound InvizX to cover water with extra-long casts while keeping mobile.
The anglers will also fish specific targets in the shallows, methodically pitching and flipping to them, instead of covering water.
When they do that, they'll fish a braided line: Seaguar's Denny Brauer Signature Series Flippin' Braid.
Denny Brauer won't compete in this event, but the pro angler is another Seaguar rep and helped develop this braid.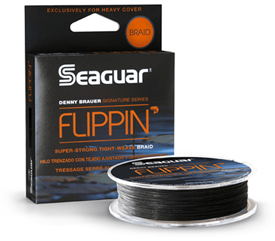 The line, colored black, is made from eight ultra-thin strands that form a tight, round profile, and is meant to cut through heavy vegetation exceptionally.
"I've never, ever had this line break," Brauer said. "It's a great line, and as a bonus, its jet-black color will get you more bites.
"Flippin' and pitchin' are about pulling big fish out of the nastiest vegetation you can find," he said. "You're on a short line, and you need to feel the quick reaction strike and then literally horse the fish out of heavy cover."
Sixty-five-pound Flippin' Braid is "just what the doctor ordered," he said.
But the anglers will also test deep water for bass, and they'll fish Seaguar's AbrazX for that, with jigs and deep-running crank baits.
AbrazX is a fluorocarbon with double the abrasion-resistance of comparable lines, Seaguar says.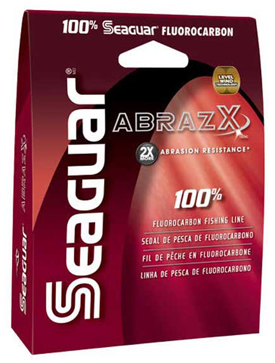 This is line for fishing areas like hard bottom.
Jordan Lee will be one of Seaguar's anglers who compete in the Bassmaster Classis on Hartwell this year, and he won the tournament last year, when the event was held in February.
Last year, boats were frozen to trailers, and the bass swam deep water during the cold.
Lee for the final day of that contest spooled every one of his poles with 17-pound AbrazX, expecting to fish deep the whole time.
He wanted a strong, abrasion-resistant line that was still thin enough to cast far, and he probed deep-diving crank baits and football jigs at hard-bottom areas.
"Seaguar AbrazX definitely boosts my confidence when I'm dragging baits on hard offshore cover because I get far fewer frays in my line," he said.
He never broke off those lures that day, making cast after cast to the depths.
Along with Jordan Lee, Seaguar's pro-angler representatives who will fish this year's tournament will also include Keith Combs, Mark Daniels Jr., Mark Davis, James Elam, Matt Lee, Brandon Palaniuk, Cliff Pirch and Jesse Wiggins.
They'll fish Seaguar exclusively at the event, of course.
To read the original story, click here.
Visit Seaguar's website.