St. Croix's Legend Tournament Bass series of rods already included models for just about every type of fishing for bass.
That included fishing specifically with jerk baits, crank baits, swim baits, jigs, shaky heads, frogs, finesse rigs, Carolina rigs, wacky rigs and more, and for flippin', skippin', light-flippin', punchin' and more.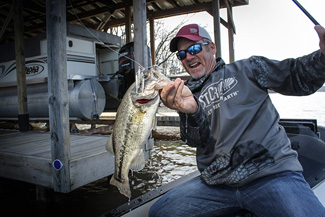 It's unreal.
But what about dock fishing?
There was no model for that?
Now there is.
The Legend Tournament Bass Dock Sniper is made to throw heavy lures to tight quarters like space between pilings at docks.
The 7-footer, made for 3/8- to 1-1/2-ounce lures, has strong back bone but is meant to have excellent tip action.
The heavy-powered, fast-action, graphite rod, for conventional reels, is made to haul big bass quickly away from pilings or other structure like cables.
But the tip is meant to give sensitivity and accuracy for casting, skipping or pitching a lure to the tightest places.
The rod comes with Fuji K-Series Concept Tangle Free Guides with Alconite rings for braid, monofilament or fluorocarbon line.
The Dock Sniper also features a Fuji PTS Black-Touch Reel Seat and split-grip cork handles to keep the pole lightweight.
For more details, read this article about the rod online.
At press time, the Dock Sniper was yet to be included on St. Croix's website.
Look for the rod to be included soon.