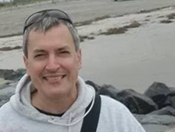 Fishing Reports Now is retiring! Or I am retiring from it.

Thank you so much to you readers and the advertisers.

I launched this website 15 years ago in April 2004. It's been my full-time job since.

This was an unusual publication because it was almost a one-man show. I did the writing and everything else. Occasionally others helped, but not often.

The site was me being a fishing writer who found a way to pay himself: selling ads. Few writers make a living only at writing. I did.

But the work consumed my life. I was happy about that.

I'm not retiring from fishing journalism. But I want to accomplish some other things, including writing featured articles or essays and maybe even books about fishing and other subjects.

I also want to fish more.

Raised in a small town in South Jersey, I began life as a musician and attended The Juilliard School. After a couple of years there, I was more interested in fishing and hunting. I quit music and earned degrees in English and mass communication, knowing I wanted to publish and write about the outdoors. I worked as an editor for some years before founding this site.

You might wonder about the timing of shutting down this website. Frankly, I didn't know I was going to do this now. I knew I'd do it eventually. As this springtime approached, I suddenly thought, I'm done. The new fishing season was coming. The ads were up for renewal. I didn't want to renew them again.

I'm 51 now. The plan always was to do some writing later in my career. It's time. I'm unsure I'm going to be able to resist the call of publishing. I might be back. I might even publish a different version of this website.

I'll take a break from all of this a moment.

Wish me tight lines.

Including this coming weekend.

Because I'm going fishing.

Again, thank you so much. I will miss many of you.

Mark Marquez II
March 31, 2019
Philadelphia, Pa.