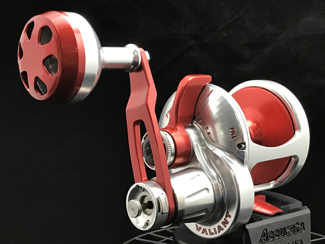 We posted a review a month ago about Accurate's BV-400, a new reel that was getting attention, saying the company was working on a larger version.
That version, the
BV-500, is being introduced.
The 500, made for catches from striped bass to tuna, holds 500 yards of 50-pound braided line.
A narrow version, the BV-500N, is also being introduced and holds 350 yards of the same size of line.
That's compared with the 400 model that holds 325 yards of that size.
All of these are in the company's Boss Valiant series of reels, and all Boss Valiants are made for braided line.
The other Valiant is the original, the BV-300, introduced more than a year ago, and is smaller.
Accurate is all about small reels for big fish.
That's what the 500 is about, too.
All Valiants feature aluminum frames that are "uniquely curved to deliver the structural integrity of a reel twice its size," the company says.
The walls on Valiants are thinner than usual, but the design of the frame and side plates enables the reels to withstand more stress, Accurate says.
Both the BV-500 and the narrow version come in one-speed or two-speed.
One of the speeds is fast, with a 6:1 gear ratio that rips in 45 inches of line per turn.

The other speed is slow, built to winch in line, with a ratio of 4:1.
All Boss Valiants feature the Twin Drag System that Accurate's become known for.
For details about the 500, visit Accurate's website.